Indy Dance Academy can come to you!

IDA can offer your organization or school classes, workshops, and demonstrations in many styles of dance and movement to accommodate all ages in a small or large group setting.  We can provide this service at your location or you can bring your organization or program to us and feel the energy at IDA.
IDA offers classes, workshops, or demonstrations: offerings can be altered to fit your organization's specific needs.
Class: These fun and energetic class offerings include a balance of dance technique and exciting choreography which students build upon weekly. These classes feature an ongoing curriculum set by the Instructor to cover appropriate materials within a six or eight week session in dance styles such as ballet, music and movement, hip hop, and musical theatre dance.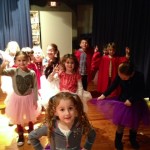 Workshop: Our fantastic Workshops offer an interactive and inspiring instruction to your students. The workshop will consist of  a warm-up, technique introduction based on the dance style chosen, and a taught choreographed combination. Educational materials, handouts, or props may be provided.
Demonstration: A Demonstration brings Indy Dance Academy Instructor(s) and/or Youth Performance and Competition Company or Team to your location for a performance in the style of your choice. Demonstration can also include an Instructor Presentation on your choice of subject as well as a Question and Answer session.
Email IDA at info@indydanceacademy.com for more details.